Industry Report 2021: Healthcare Services Sector in Cambodia
Industry Report
/
May 14, 2021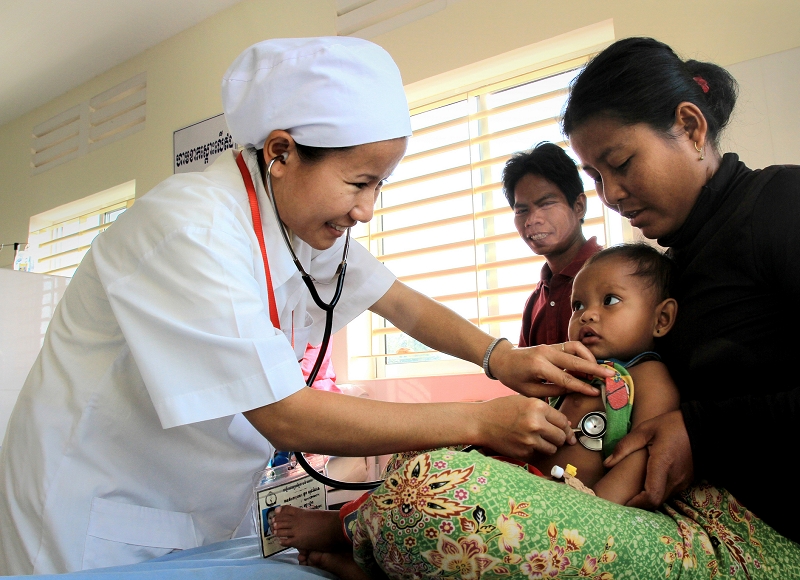 EXECUTIVE SUMMARY
Introduction
- Cambodia has a weak healthcare system that has not been able to deliver accessible, equitable and quality health services to the people. Characterized by insufficient infrastructure, and inadequate human and financial resources, the Kingdom's healthcare system lacks behind most of its ASEAN peers. However, significant improvements in the socio-economic determinants of health have been noteworthy, with the Kingdom being able to achieve the Millennium Development Goal target ahead of its plan. Despite the improvements, the quality of public health services remains an issue, and the private health sector is now playing an increasingly important role in filling the gap. The demand for private health services has continued to rise in tandem with the rapid economic growth, showing promising signs for investment into the private sector. The report is aimed at offering a glimpse on the overall healthcare system in Cambodia, highlighting the key investment points and opportunities that potential investors should consider.
Country Overview
Country Profile
-Cambodia is situated in Southeast Asia, with a total population of 15.6 million and a nominal GDP of USD26.7bn as of 2019.
-Phnom Penh, the capital city of Cambodia, is home to a population of 2.28 million, while the greater Phnom Penh metropolitan area (including Kandal province) is home to 3.5 million people.
Administrative Structure
-The Kingdom is divided into 24 provinces and 1 autonomous municipality. Phnom Penh is the only autonomous municipality, and is managed at the same level as provinces.
-There are four levels of administrative division from bottom to top: villages level, commune level, district level, and city/province level.
Demographic Transition
-According to the General Population Census of Cambodia 2019 conducted by the National Institute of Statistics (NIS), the total population of Cambodia reached 15.55 million in 2019, up from 13.40 million in 2008.
-The proportion of working-age population (15-64) rose by 2.7%pt to 64.7%. This suggests abundant young and cheap labor force that can be supplied to various economic sectors, a critical indicator for economic growth.
-Children, women at reproductive age, and elderly people account for 45% of the population. These are the groups of people that tend to have a greater demand for healthcare services than other population segments.
-The urban population grew 7.8% annually over the past decade, doubling the number of urban populations to 6.19 million people in 2019. Among all, Phnom Penh saw the largest increase (about 1 million people) with an average annual growth rate of 4.9%.
Macro-economy Overview
-Cambodia, one of the fastest growing economy in the world, has seen strong economic expansion over the past 20 years. Between 2011-2019, the real GDP growth averaged 7.1%, the highest in ASEAN.
-In 2020, the economy is estimated to contract 1.9% (NBC forecast), experiencing a recession for the first time since 1986. Cambodia's economy is expected to see a V-shaped recovery with the GDP forecast to return to positive growth in 2021. According to the International Monetary Fund (IMF)'s forecast as of April 2021, the GDP is expected to grow 4.2% in 2021 with the consumer price inflation rate of 3.1%.
-In the medium-term, Cambodia is expected to continue to outperform most of its ASEAN peers. According to the IMF's forecast, the average growth between 2022-2026 will be 6.5%, the third highest in ASEAN.
-The medium-term growth is likely to be propelled by the gradual recovery in the tourism and hospitality sector, increased FDI inflows and exports from the conclusion of the Cambodia-China Free Trade Agreement, continued diversification of manufacturing products, rising FDIs inflows into agricultural-processing industry, crop diversification in the agricultural sector, as well as the expected increase in the government expenditure.
Healthcare Services & Facilities
Public Health System
-The Ministry of Health (MoH) manages and regulates the health industry including both the public and private sectors.
-In general, public health facilities are the prominent providers of preventive services and inpatient admissions, while private health facilities tend to dominate the provision of outpatient curative consultation.
-Cambodia's public health system is organized into three levels:
-The national (central) level comprises the Ministry of Health's departments, training institutions, national centers, and national hospitals.
-The provincial level comprises provincial health departments, regional training centers, and provincial referral hospitals.
-The operational district level comprises operational district offices, district referral hospitals, health centers, and health posts.
-As of 2019, Cambodia has 126 national and referral hospitals (including 9 national hospitals, 25 provincial referral hospitals and 92 district referral hospitals), 1,221 health centers, and 127 health posts, with 13,464 hospital beds.
-Health centers are established and aimed at delivering the minimum basic health care services to the population in the community while national/provincial referral hospitals provide health services that cannot be delivered by health centers. Public health sector remains the most important means of receiving at least the minimum basic health care services as the vast majority of population remain poor.
-The public sector is the prominent provider of baby delivery services. In 2019, about 303 thousand pregnant women (82% of the expected women) delivered at one of the public health centers or hospitals. Meanwhile, only 18% of the expected women delivered at private service centers or at their homes
Private Health Sector
-As of 2019, there were 425 clinics, 71 polyclinics, 68 medical laboratories, 52 dental clinics, 22 private hospitals, and 14 maternities.
-The private sector has continued to gain momentum in offering quality health services to middle- and high-income population, mainly in the urban areas. In 2018, the out-of-pocket expenditure on health accounts for 57.5% of the total current health expenditure, the second highest in ASEAN after Myanmar. Of this, approximately 80% went to the private healthcare providers
-Private health services are concentrated in major cities especially in Phnom Penh, Siem Reap, Sihanoukville, and Battambang.
-The number of outpatient examination cases reported by private healthcare providers reached almost 1.5 million in 2019 (10.3% of the total cases or 9.2% of the total population). The number of cases reported by private healthcare providers in 2019 increased more than 70% from that of 2018.
-About 50,000 births per year (between 14% and 15% of the total pregnant women) are delivered at private service centers.
Health Expenditure in Cambodia
Current Health Expenditure
-Cambodia's current health expenditure (CHE) reached USD1,472mn in 2018, up 12% from 2017. CHE per capita had increased gradually at a CAGR of 4.6% from USD69 per annum in 2012 to USD90.6 per annum in 2018.
Out-of-pocket Health Expenditure
-As of 2018, the main sources of financing for health expenditure are the out-of-pocket expenses (OPE, 57.5%), general government budget (20.7%), and donor and others (20.6%). The proportion of OPE is among the highest in ASEAN after Myanmar (76.3%).
-The medium and high-income segments resort to spending more money on private health services, which can be offered by both private clinics/hospitals and private sections of public hospital. Some public hospitals also require patients to pay for a higher-quality service as if they are using a private hospital.
-About 0.5% of the total health expenditure came from private health insurance in 2018. The private insurance market is still relatively young and under-penetrated, having a greater room for growth. According to the Insurance Association of Cambodia, medical insurance gross premium had increased on average 20% per year from USD5.7mn in 2013 to USD14.4mn in 2018.
Health Expenditure to Public Sector
-Health expenditure to public healthcare providers amounted to USD718mn in 2018 or about 49% of CHE. Historically, public healthcare providers absorbed between 40% and 53% of CHE, with the remaining going to private healthcare providers.
Health Expenditure to Private Sector
-In 2018, health expenditure to the private sector is estimated at around USD750mn, of which about USD550mn went to private clinics and hospitals
Key Investment Highlights
Impressive economic growth and rising income per capita
-Cambodia's economy is expected to continue its strong growth in the post-COVID-19 period, with an average growth of 6.5% over 2022-2026.
-Nominal GDP per capita is expected to increase to USD2,217 in 2025 from USD1,713 in 2019.
Rising population with rapid urbanization
-Population is expected to increase by 1.0% per annum to 16.5 million by 2025 from 15.6 million in 2019
-Urbanization rate is projected to grow from 39% in 2019 to over 46% in 2025 driven by the continued movement of young labor force from the countryside to the cities
High fertility rate and increasing number of expected women
-Cambodia's fertility rate stood at 2.5 births per women in 2018, the third highest in ASEAN.
-The number of pregnant women is expected to increase to over 400 thousand by 2025.
One of the most popular destinations for foreign tourists and expats in ASEAN
-Cambodia is home to the world-famous UNESCO-registered Angkor Wat archaeological site, one of the most popular tourist destinations in Asia.
-The country welcomed over 6.6 million foreign visitors in 2019.
Poor quality public services & increasing demand for quality private services
-The quality of public health services remains far from satisfactory, requiring the private sector to fill the gap.
-We project that the private health sector's revenue to increase from around USD650mn in 2020 to nearly USD1bn in 2025.
Public trust in domestic health system and opportunities
-Public trust in the domestic health system remains low with an increasing number of high-income people seeking health services from overseas.
-Investments in the private healthcare sector that aim to bring the standard services into Cambodia could benefit from this high-income segment.
-Unlike the neighboring countries, 100% foreign equity participation is possible in Cambodia. However, FDIs in the healthcare sector remain insignificant.